Transportation Issues in the News
The following article was prepared by RTC staff. We felt this topic would be of broad interest to our site's visitors and offer insight into at least one emphasis area of the agency's current focus. We plan to update these feature articles on a regular basis, so check back for new content!
The Bus on Shoulder Feasibility Study represented the first look in the Vancouver/Portland region about the idea of operating buses on the freeway shoulder during times of heavy congestion. Experience in other parts of the county found that it can offer a low cost way to improve transit mobility and efficiency without affecting mainline freeway operations. With limited funds available for major freeway capital projects, the region wanted to look at innovative ways to manage existing congestion more effectively such as fixing roadway bottlenecks, ramp metering and other transportation technologies. Bus on shoulder was the strategy examined in detail under this study.
While new to Vancouver, bus on shoulder has been a successful and popular way to improve transit service in other parts of the country. The concept of bus on shoulder is pretty simple: Buses can use the freeway shoulder when mainline speeds are less than 35 mph; buses allowed go up to 15 mph faster, but still have a maximum speed of 35 mph. Although buses are allowed to use the shoulder during these times, the priority for shoulder use is always for vehicle breakdowns and safety.
The corridors studied for this effort were on SR-14 between I-205 and 164th and I-205 from 18th Street Interchange in Vancouver to I-84 in Portland.
RTC, in partnership with WSDOT, C-TRAN, ODOT, Tri-Met, and Metro, looked at roadway geometrics, operational benefits, safety, and state transportation policy to identify feasible BOS concepts. The completion of the study saw a set of recommended low cost BOS segments on SR-14 and I-205.
The recommended segments each have unique characteristics that are described in detail below. However, the most interesting one is that WSDOT and C-TRAN have agreed to ground test bus on shoulder as a pilot project on SR-14. It has a lot of transit service, heavy congestion and significant time savings for transit.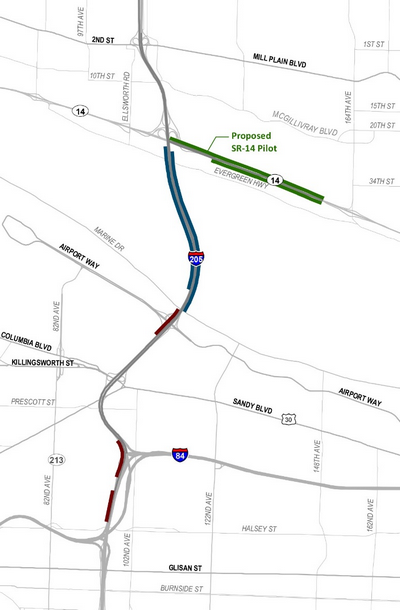 Washington state law already allows buses to operate on the shoulder, making SR-14 implementation easier. While there are BOS segments recommended on I-205 in Oregon, buses cannot legally use the freeway shoulder. The state would have to make an administrative or legislative change for shoulder use by buses.
The Glenn Jackson Bridge, like SR-14, is a straightforward segment to execute bus use of the shoulder. The other segments on I-205 are more complex with multiple interchanges and several two lane onramps where buses would have to leave and get back on the shoulder. Many regions have successfully operated non-continuous BOS segments with similar characteristics. However, with no BOS corridors in the Vancouver/Portland region, Oregon hopes to learn from the SR-14 pilot project and examine operations and safety to better understand the impacts.
There are three distinct recommendations for bus on shoulder in the study corridors as shown on the map:
SR-14 from 164th to I-205 is recommended as a pilot project

It is supported by both WSDOT and C-TRAN.
There are no intermediate interchanges.
There are good existing freeway shoulders.
The bus only ramp from C-TRAN's park and ride facility provides direct access to the shoulder.
WSDOT has existing legal authority to operate buses on the shoulder.

Glenn Jackson Bridge between SR-14 and Airport Way is recommended

There are no intermediate interchanges.
There are good existing freeway shoulders.
Unlike Washington, Oregon does not have currently have legal authority to run buses on the shoulder.

Three southbound segments on I-205 are recommended for further review and study.

These segments meet the technical criteria based on congestion and shoulder availability.
However, they are shorter, have more interchanges and have several two lane freeway ramps.
ODOT will further examine their operational and safety issues to better understand the range of impacts.
C-TRAN and WSDOT are working together to have the SR-14 Bus on Shoulder Pilot Project operational this fall. They have recently completed agreements on operating rules, signage, striping and shoulder maintenance as well as driver training and are developing a public information campaign for the project. The C-TRAN Board approved all the necessary agreements at their meeting on June 13, 2017.
The final report and detailed recommendations may be downloaded on the study summary page.
June 27, 2017 ⋅ PermaLink ⋅ Archive
---
News Feed
Below are an assortment of recent news items related to or impacting local transportation issues. Most of these stories were authored outside the agency, and will take you to a new page on (or PDF document from) an external site.
People who ride C-TRAN buses on State Route 14 between Interstate 205 and Southeast 164th Avenue will enjoy a more reliable trip during certain busy travel times later this year. As part of a cooperative pilot project between C-TRAN and the Washington State Department of Transportation, C-TRAN buses will be allowed to use the shoulder when travel speeds drop below 35 mph on the brief stretch of SR 14 beginning this fall.
The next major transportation project in Battle Ground is set to kick off in the coming weeks, this one looking to alleviate congestion where the city's two state highways meet. The first phase of the multiyear Congestion Relief Project, which could start as soon as July 17, according to Scott Sawyer, the city's public works director, will focus on three different sections near the intersection of state Highway 503 and state Highway 502. The phase will change the traffic flow a bit in the area, and add an entrance to Fred Meyer.
Work will begin next week to enhance public safety by improving pedestrian and bicycle facilities along the west side of a 15-block stretch of Highway 99. On Wednesday, July 5, Colf Construction, LLC, a Vancouver-based contractor working for Public Works, is scheduled to begin replacing portions of sidewalk on the west side of Highway 99 between Northeast 63rd Street and Northeast 78th Street. Access to all businesses will remain open during construction. The existing substandard sidewalk along this three-quarter-mile section of Highway 99 will be reconstructed to at least 6 feet wide, creating a safer, disabled-accessible walkway.
Construction crews continued to lay the groundwork for a new stretch of Northeast 10th Avenue and a bridge over Whipple Creek on Monday. When completed, the 450-foot, two-lane, concrete bridge will stand close to 48 feet above the creek. It's expected to last for 75 to 100 years. The work is part of a larger project to improve Northeast 10th Avenue from Northeast 154th Street north to Northeast 164th Street. "The 10th Avenue project will complete a portion of the planned transportation network of this region," said Troy Pierce of Clark County Public Works, noting there's no roadway there at all. "It closes the gap." It'll also improve area connectivity before the surrounding land develops in the future.
Chris Forhan uses C-Tran nearly every day and has been a constant rider for a little more than 10 years, so he had a keen interest when the agency made a substantial service change last year and added The Vine in January. C-Tran altered 375 bus stops, changed 11 routes, added three more and dropped two others in September in an effort to improve overall functionality of its system. The changes helped lay the foundation for The Vine, the region's first bus rapid transit system, which went live a few months later. So, how'd the agency do?
A few months from now, drivers needn't be alarmed if they're stuck in a traffic jam on part of state Highway 14 and a C-Tran bus passes them on the shoulder. The C-Tran Board of Directors approved an interlocal agreement with the Washington State Department of Transportation that paves the way for an 18-month bus-on-shoulder pilot project. Likely starting in September, the project will allow buses on routes 41, 65 and 164 to drive on the eastbound and westbound highway shoulder between Interstate 205 and Northeast 164th Avenue when traffic in the main lanes drops below 35 mph.
Clark County resident Natalie Richards is one of thousands of Portland-bound commuters who finds herself frustrated and stuck in bumper-to-bumper traffic. Richards, a civil engineer and project manager, rides the bus across the Columbia River, but it's done little to save time. In fact, she found herself having to leave earlier and earlier to make it to work by 8 a.m. "When the gas price went down all the cars hit the road at 5:30 too … We were stuck behind all these single-driver cars," she said. Now she and a group of 16 others have been championing High Occupancy Vehicle lanes on the southbound stretch of Interstate 5 in hopes that they would bring some reprieve for carpools and mass transit riders. Officials say HOV lanes can be a solution to congestion, but not on southbound I-5 in its current configuration.
Construction crews have broken ground on a public works project that's intended to improve and connect two stretches of Northeast 10th Avenue that are separated by Whipple Creek. Earlier this week, Cascade Bridge LLC, which was awarded the $14.62 million contract for the project by the county, began preliminary work on widening the stretches of Northeast 10th Avenue, while also adding sidewalks, bike lanes and a 450-foot bridge that will connect the road across the creek, said Bart Arthur, Clark County Public Works construction engineer.
Residents on and near Northeast 68th Street have tried to get sidewalks on the narrow road for quite a while. Now, it appears like the street is close to getting sidewalks thanks to a bunch of pot stirrers in the Northeast Hazel Dell Neighborhood Association. Getting sidewalks on 68th Street was named the highest-scoring project on the county's Sidewalk Infill Priority List, and the county applied for a 2017 Transportation Alternatives Program grant through the Southwest Washington Regional Transportation Council.