Bus on Shoulder Feasibility Study
The Bus on Shoulder Feasibility Study represented the first look in the Vancouver/Portland region about the idea of operating buses on the freeway shoulder during times of heavy congestion. Experience in other parts of the county found that it can offer a low cost way to improve transit mobility and efficiency without affecting mainline freeway operations. With limited funds available for major freeway capital projects, the region wanted to look at innovative ways to manage existing congestion more effectively such as fixing roadway bottlenecks, ramp metering and other transportation technologies. Bus on shoulder was the strategy examined in detail under this study.
While new to Vancouver, bus on shoulder has been a successful and popular way to improve transit service in other parts of the country. The concept of bus on shoulder is pretty simple: Buses can use the freeway shoulder when mainline speeds are less than 35 mph; buses allowed go up to 15 mph faster, but still have a maximum speed of 35 mph. Although buses are allowed to use the shoulder during these times, the priority for shoulder use is always for vehicle breakdowns and safety.
The corridors studied for this effort were on SR-14 between I-205 and 164th and I-205 from 18th Street Interchange in Vancouver to I-84 in Portland.
RTC, in partnership with WSDOT, C-TRAN, ODOT, Tri-Met, and Metro, looked at roadway geometrics, operational benefits, safety, and state transportation policy to identify feasible BOS concepts. The completion of the study saw a set of recommended low cost BOS segments on SR-14 and I-205.
The recommended segments each have unique characteristics that are described in detail below. However, the most interesting one is that WSDOT and C-TRAN have agreed to ground test bus on shoulder as a pilot project on SR-14. It has a lot of transit service, heavy congestion and significant time savings for transit.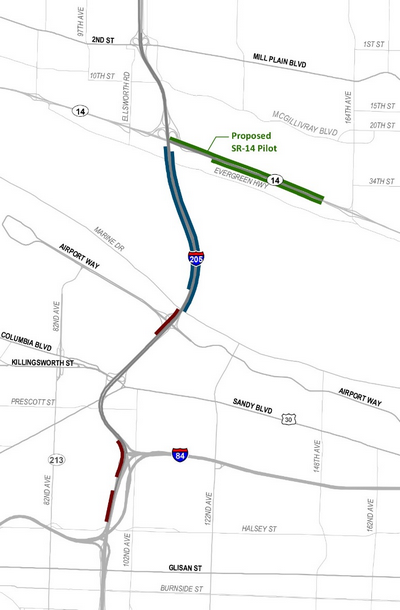 Washington state law already allows buses to operate on the shoulder, making SR-14 implementation easier. While there are BOS segments recommended on I-205 in Oregon, buses cannot legally use the freeway shoulder. The state would have to make an administrative or legislative change for shoulder use by buses.
The Glenn Jackson Bridge, like SR-14, is a straightforward segment to execute bus use of the shoulder. The other segments on I-205 are more complex with multiple interchanges and several two lane onramps where buses would have to leave and get back on the shoulder. Many regions have successfully operated non-continuous BOS segments with similar characteristics. However, with no BOS corridors in the Vancouver/Portland region, Oregon hopes to learn from the SR-14 pilot project and examine operations and safety to better understand the impacts.
There are three distinct recommendations for bus on shoulder in the study corridors as shown on the map:
SR-14 from 164th to I-205 is recommended as a pilot project

It is supported by both WSDOT and C-TRAN.
There are no intermediate interchanges.
There are good existing freeway shoulders.
The bus only ramp from C-TRAN's park and ride facility provides direct access to the shoulder.
WSDOT has existing legal authority to operate buses on the shoulder.

Glenn Jackson Bridge between SR-14 and Airport Way is recommended

There are no intermediate interchanges.
There are good existing freeway shoulders.
Unlike Washington, Oregon does not have currently have legal authority to run buses on the shoulder.

Three southbound segments on I-205 are recommended for further review and study.

These segments meet the technical criteria based on congestion and shoulder availability.
However, they are shorter, have more interchanges and have several two lane freeway ramps.
ODOT will further examine their operational and safety issues to better understand the range of impacts.
C-TRAN and WSDOT are working together to have the SR-14 Bus on Shoulder Pilot Project operational this fall. They have recently completed agreements on operating rules, signage, striping and shoulder maintenance as well as driver training and are developing a public information campaign for the project. The C-TRAN Board approved all the necessary agreements at their meeting on June 13, 2017.
The final report and detailed recommendations may be downloaded on the study summary page.